Ethos
Our mission at Timoney Leadership Institute is to contribute to the common good of companies and society by developing competent, responsible, people-centred leaders, training them in the ability to carry out their leadership role so as to have a deep, positive and lasting impact on people, on their organisations, and on society.
Goals
We strive to achieve this by training leaders to deepen their knowledge and expertise in their vocation as leaders, increasing their confidence to face today's business challenges, while exploring and redefining their core values and principles that guide them in carrying out their leadership role.
We are a not-for-profit educational institute, drawing on Christian values that reflect the intrinsic rights and dignity of each human being.
These core values include professionalism, integrity, trust, accountability, loyalty, transparency, fairness and a spirit of service.
A particular emphasis is given to human and ethical values which benefit the development of organisations and their members in a sustainable and responsible manner.
We have built a strong associate relationship with IESE Business School, which is a world-class provider of executive education, headquartered in Barcelona. In 2017, we signed an agreement with IESE for further collaboration and support. We have drawn our inspiration and ethos from IESE and collaborate closely with furthering its mission in Ireland. IESE has been ranked in recent years as no 1 for executive education globally by the Financial Times.
In summary, we help leaders to do their work as a leader more effectively and professionally.
History
Timoney Leadership Institute was established in 2012 by a group of senior business leaders from all over Ireland, including our President, John Killeen (Chairman, Marine Institute) and Vice President, Seamus McKeague (Managing Director, Creagh Concrete). The Chair of our Board of Management is Peter Keogh of Keogh Ryan Tierney Chartered Accountants.
The Institute developed from the Lismullin Leadership Forum which has been organising leadership seminars on ethical issues since 2006. With the support of San Telmo International Institute in Seville, we launched our first Advanced Leadership Programme in 2013.
Named after Dr Seamus Timoney, Professor of Engineering in UCD and co-founder of Timoney Technology, the Institute draws inspiration from the example of dynamic and generous leadership which he set in his academic, business and personal life. To read more about his inspiring story and and achievements click here.
We have set ourselves the following 10 aims to be achieved through the programmes and through the alumni network: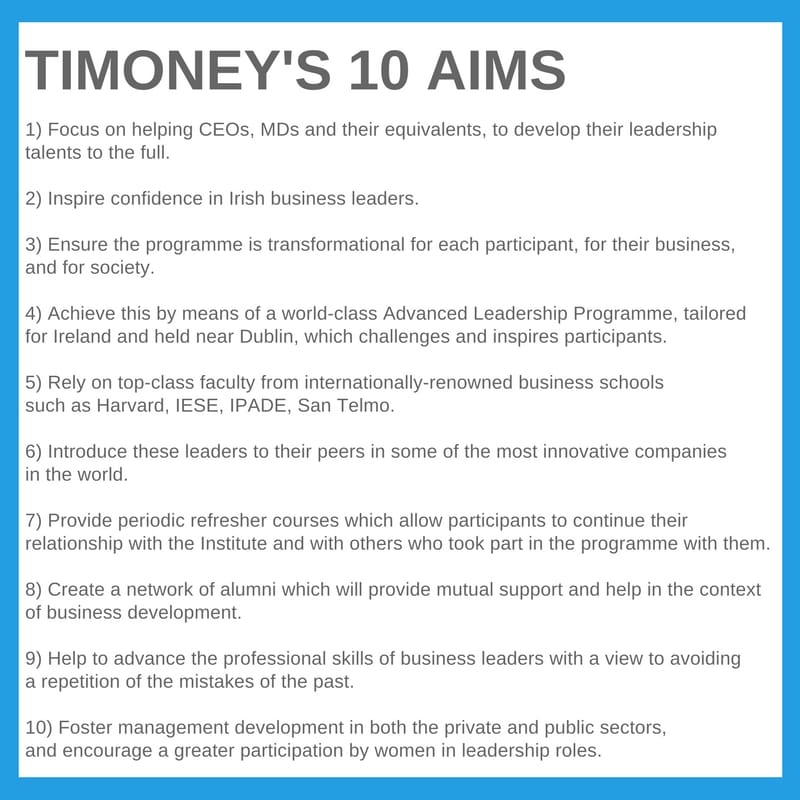 Like a masterchef, the Timoney ALP effortlessly combines the ingredients of content, faculty and executive participation to deliver a programme so relevant in today's uncertain world: an urgent reminder that business and civic society requires engaged and ethical leaders as never before